The Canadian Scientific Submersible Facility is a nationally registered not-for-profit corporation established in 1995 to manage and operate the ROPOS system.
CSSF is proud that ROPOS is known as the world's most capable scientific submersible for its capabilities, versatility, efficiency, and the skill and professionalism of its operators.
Since its inception, CSSF has made it possible for ocean scientists to conduct research on the ecology of hydrothermal vents, sponge reefs and cold-water corals, and the geochemistry and economic potential of sulphide mineral and gas hydrate deposits, and to perform pioneering work on cabled deep-sea observatories.
Our Vision is to promote undersea research with world-class Canadian technology.

Our Mission is to provide Canadian and international scientists with a state-of-the-art ability to conduct science and engineering in the submarine environment at a realistic cost.
History
Helping you explore the oceans since 1995
Between 1973 and 1986, the federal Department of Fisheries and Oceans (DFO) operated the manned submersible Pisces IV primarily to provide support to Canadian scientists. Based at the Institute of Ocean Sciences (IOS), this national facility operated in the Pacific, Arctic and Atlantic oceans, completing more than 1886 dives.
Budget cuts forced the cancellation of the charter for the support vessel, Pandora II in 1986, thereby ending operation of Pisces IV. Pisces was subsequently sold and is presently operated by the Hawaii Undersea Research Laboratory. A HYSUB 5000 remotely operated vehicle (ROV) from International Submarine Engineering (ISE) was ordered as a replacement, with the dual objectives of maintaining submersible support for the Canadian scientific community and promoting the national ocean technology industry.
In 1995, to better manage and operate the ROPOS vehicle, the Canadian Scientific Submersible Facility (CSSF) was established by a group of Canadian university scientists. Fielding a consistently successful team for operations and maintenance of the system, CSSF has earned strong client support. Working relationships have been established with the University of Victoria, University of Washington, the NOAA Vents program and the NOAA West Coast Undersea Research Center, the Natural Sciences and Engineering Research Council (NSERC), GEOMAR (a German research support agency) as well as Natural Resources Canada and several other Canadian universities.
Vehicle History
Over 25 years of evolution
The ROPOS ROV is continually evolving to take advantage of new technologies and to compliment the needs of our users in an effort to deliver more capabilities, versatility, and efficiency year after year. Since ROPOS started exploring the oceans since 1986 it has gone through three generations.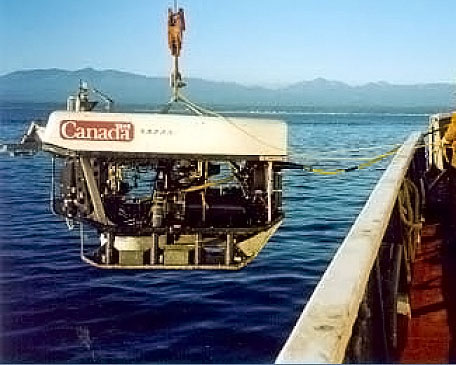 First Generation ROPOS being launched from CCGS Tully.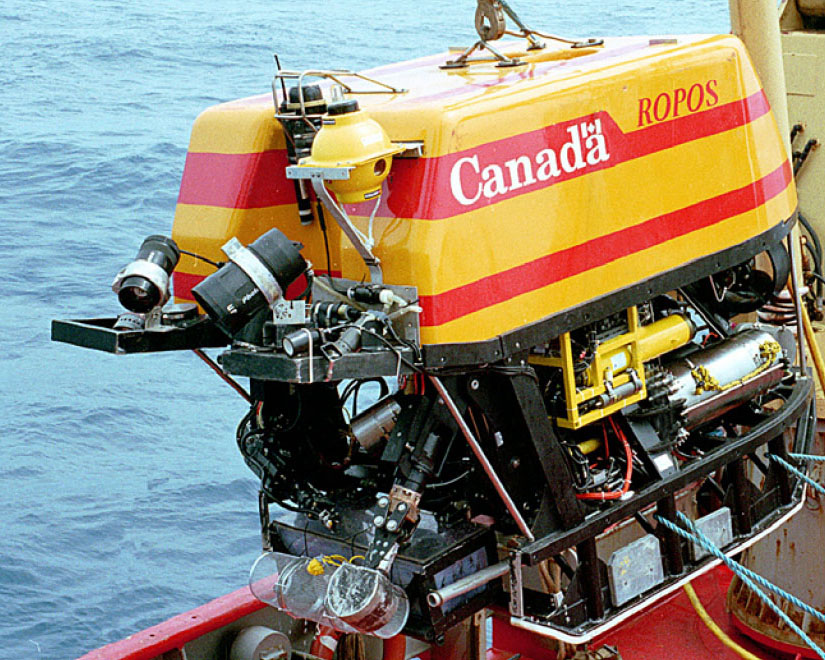 Second Generation ROPOS being launched from CCGS Tully.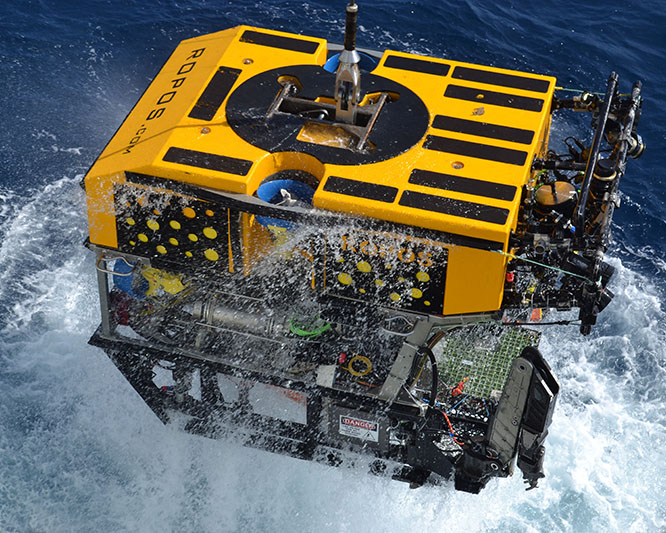 Current ROPOS being recovered from R/V Thompson in 2013. Photo credit: RSN/OOI
The First ROPOS
Operated by DFO, the original ROPOS was a HYSUB 5000 remotely operated vehicle (ROV) from International Submarine Engineering (ISE). The HYSUB 5000 was affectionately dubbed 'ROPOS' (Remotely Operated Platform for Ocean Sciences) and had several advantages over the manned submersible; it could easily operate from a variety of ships, and had a greater depth capability.
Between its delivery in 1986 and the end of 1995 it made a total of 377 dives. Starting in 1992, part of the cost of operations was paid by the Canadian university users, with support from NSERC. Further support came from collaborations with US scientists.In 1996, ROPOS was lost at sea during a severe west coast storm that partially disabled the research vessel from which it was being operated.
Second Generation ROPOS
In 1997 a new vehicle was purchased from International Submarine Engineering (ISE). Key members of CSSF participated in the rebuild and their experience with the original vehicle resulted in many improvements to the electronic, electrical and hydraulic systems. A completely new telemetry system was also implemented by ISE.
This was the first ROPOS vehicle to be operated by CSSF. During its operational period (1996-2004) the second generation ROPOS helped perform pioneering deep-sea research. A dive categorized summary of its operations include:
1996-2004 Dives Summary
Mid-Ocean Ridges
19 major cruises to mid-ocean and black-arc ridges, completing 229 dives.
Habitat Surveys
31 major survey cruises for ecological and biological purposes, completing 196 dives.
Gas Hydrate
95 subduction zone dives on 13 cruises.
Cabled Seafloor Observatories
8 cabled observatory dives on 1 cruises. The first VENUS cruise.
Engineering and Search and Recovery
44 marine engineering and recovery dives on 11 cruises.
In 2005, CSSF began a three-year, $2.33 million, upgrade to all ROPOS systems. In approximately 8 months, ROPOS was completely rebuilt with a new frame, a 3000 volt sub-motor was fitted and a new fibre-optic telemetry system installed.The new vehicle was successfully sea-trialled on June 24, 2005 and put into service on July 3rd, 2005.
Since it was put on service the new ROPOS vehicle has performed over 786 dives on 54 expeditions. While ROPOS continues to be the premiere resource for Canadian and international deep-sea sciences, it has now shown its capabilities are invaluable to some of the world's most advanced cabled ocean observatories with over 460 of those dives dedicated to their installation and maintenance.
The upgrades continued and in 2006 with new launch and recovery system (LARS) crane and a state-of-the-art sub-sea navigation system. From 2007 to 2012 there were several upgrades to the HD video and still cameras plus the addition of numerous LED lights to the vehicle. For 2013, there were significant upgrades to the vehicle with a complete rebuild of the hydraulic systems. New thrusters, a constant-horsepower hydraulic pump and a new hydraulic valve pack were installed.
ROPOS was developed with major funding from the Department of Fisheries and Oceans, Natural Resources Canada, and NSERC. Major upgrades to the system have been funded by CSSF, the Canada Foundation for Innovation and the British Columbia Knowledge Development fund.